23 rd Annual Civil War Encampment
Join us next year for the fun and excitement where
an important event in our history comes alive!
Saturday, May 6, 2017
Sunday, May 7, 2017
10:00 am - 4:00 pm
Dousman Stagecoach Inn Museum

1075 Pilgrim Parkway
Brookfield, Wisconsin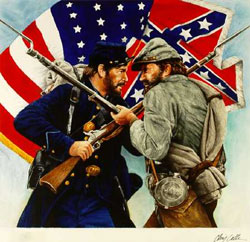 During this two day event, soldier re-enactors camp overnight on the grounds. Walk through the campsites, hear cannon roar, tour the Inn. Watch Cushing's Battery demonstrate the artillery and fire the cannon. Meet Pelham's Battery (CSA) and find out about their war experiences. Hear the Regimental Volunteer Band of Wisconsin perform Sunday on original period instruments. Bid on silent auction baskets.
Visitors will be able to:
Visit the 17th Corps Field Hospital to see the medical treatment wounded soldiers received during the Civil War
Hear concerts by the Regimental Volunteer Band of Wisconsin on Sunday
Visitors can:
Purchase handmade goods from merchants: candles, quilts, clothing, honey, baskets, tinware, lace, carpets, buttons, hard tack, toys, soaps etc.
Shop for bonnets, Civil War hats, toy soldiers and other items at the Donaldson House Visitor's Center & Gift Shop
Schedule subject to change without notice
Food and Beverages Are Available Both Days
ADMISSION
| | | |
| --- | --- | --- |
| Adults: $6.00 | Children 3 to 12: $3.00 | Children 2 & under free! |
(Cash or check only)
Free parking at Pilgrim Park Middle School on Pilgrim Parkway and North Shore Bank on Bluemound at Pilgrim Parkway. A free shuttle is provided round trip to the Dousman Stagecoach Inn Museum from both lots. No parking on the grounds
Pilgrim Park Middle School
1500 Pilgrim Parkway, Elm Grove, WI

North Shore Bank

15700 W. Bluemound Rd., Brookfield, WI
Special Thanks!
To Prior Civil War Days Participants
17th Corps Field Hospital

Civil War Nursing - Emily Matthews

Cushing's Battery

Daughters of Union Veterans

Embalming Surgeon - Ed Klug

Fortune Teller - Carol Paulson

General Grant - Wayne Issleb

Grand Army of the Republic

Historical Time Keepers

James Johnson

Kepis & Dream Catchers

Mary Todd Lincoln - Jessica Michna

Pelham's Battery (CSA)

Regimental Volunteer Band of Wisconsin

Undertaker - Scott Paulson
Prior Civil War Encampment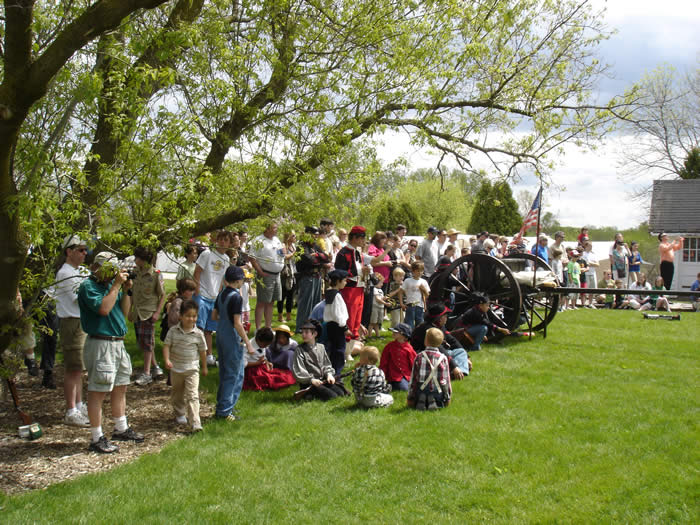 Crowds gather to see the canon fire.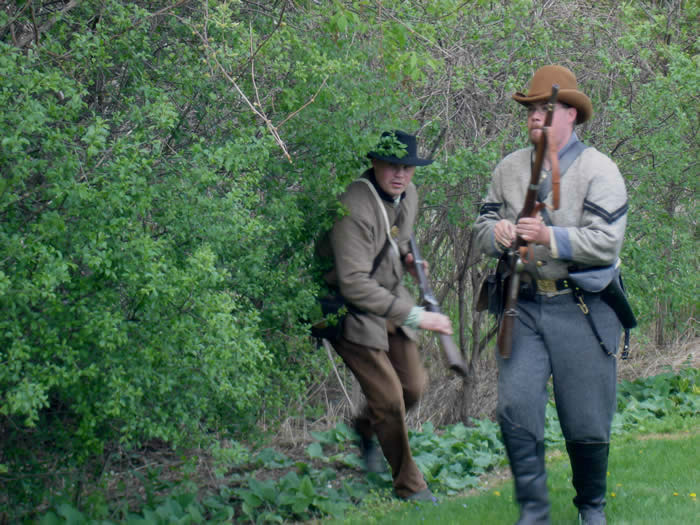 Confederate troops come out from hiding in the underbrush.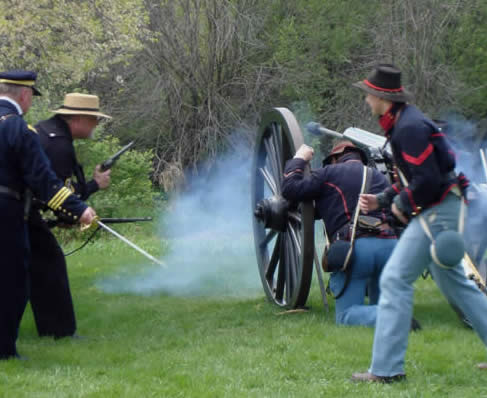 Union troops fire canon.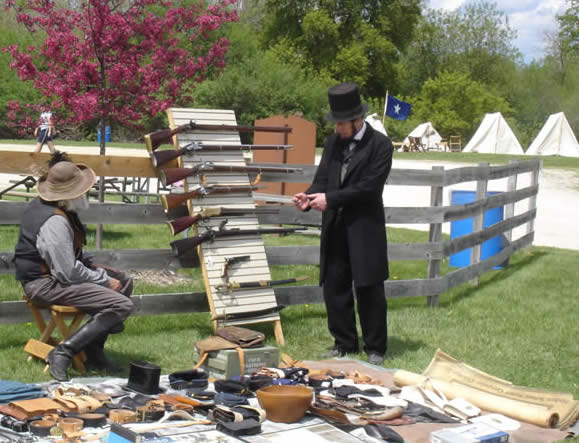 President Lincoln examines wares sold by a
sutler during the Civil War Encampment.